IN THE WAREHOUSE DISTRICT
1. The Croft Downtown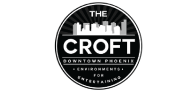 The Croft Downtown is unlike any other venue in the Phoenix area. With over 10,000 square feet of event space, this urban venue includes two dedicated rooms with original concrete floors and wood bow truss celings paired with crystal chandeliers suspended from the ceilings. Chic decor to create a simple yet elegant feel. Equipped with an enchanting rustic ceremony area and a dedicated reception space for dinner, dancing and entertainment. The outdoor garden patio encompasses a charming veranda surronded by lush greenery and luminous portofino bistro lights.
Inside this eccentric building is the home to Angelic Grove, a boutique custom event, floral and wedding design company helmed by husband-and-wife team, Mark and Angela Karp. Serving clients in the wedding, beauty, fashion and lifestyle industry amongst corporate parties, special occasions and charity events for over 15 years in the valley. The key distinction lies in our organic and modern style, creating breathtaking environments that convey vibrancy, drawing inspiration from linear, clean concepts from around the world. We invite you to discover the romantic and elegant environments we have created during Warehouse Wednesday.
"We are most excited about the fact that there's so much focus on the urban, downtown environmeny that is the Warehouse District."
Contact Information:
602-462-970
info@thecroftdowntown.com
thecroftdowntown.com
22 East Buchanan Street Phoenix, Arizona 85004
2. Arizona Diamondbacks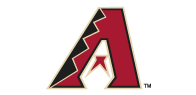 The Arizona Diamondbacks, often shortened as the D-backs, compete in Major League Baseball as a member of the National League West division. The five-time NL West Champions (1999, 2001, 2002, 2007, 2011) and 2001 World Series Champions play at Chase Field, situated in the heart of Downtown Phoenix adjacent to the Legends Entertainment and Phoenix Warehouse Districts.
Led by Managing General Partner E.G. (Ken) Kendrick and President & CEO Derrick Hall, the D-backs are known for their unparalleled organizational culture, which is driven by the club's Circle of Success that focuses on performance, community, culture, financial efficiency and fan experience.
"The continued momentum of Downtown Phoenix and the Warehouse District is palpable as more and more businesses and residents relocate near Chase Field. We hope that D-backs Baseball can be the ultimate connection point – a place for people to come together and rally around a shared experience that creates jobs, local economic impact and most importantly, a sense of civic pride."
The Arizona Diamondbacks and the Arizona Diamondbacks Foundation have also made more than $45 million in charitable contributions to Arizona-based organizations since 1998.
Contact Information:
602-462-6500
arizona.diamondbacks.mlb.com
Chase Field  |  401 E Jefferson Street Phoenix, AZ 85004
4. ASU Grant Street Studios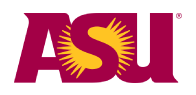 Grant Street Studios (GSS) is the home of the MFA graduate programs in the Herberger Institute School of Art @ASU. Occupying more than 40,000 sq. ft. of a newly renovated historic warehouse space in downtown Phoenix, GSS hosts more than 60 graduate studios, 2 School of Art galleries, state of the art production facilities, and critique and event space. Graduate students work across the areas of Painting, Drawing, Fibers, Intermedia, Sculpture – including specializations in Wood and Small Metals – Ceramics, Printmaking and Photography.
"It's the coolest space in town! For artists – we like big raw space with lots of room to expand, explore, make noise, etc. Having a satellite building away from the main campus that houses all of our programs is a dream come true, and connecting to downtown art, design and business communites of Phoenix have made a difference in our student success."
The Herberger Institute School of Art MFA program is ranked in the top 20 best programs in the US (according to 2016 ranking in the US News and World Report). During the academic year (September – May) new exhibitions open every 2 weeks in the Step Gallery and every 1 or 2 months in the Northlight Photographic Gallery. During the Spring the GSS is host to free public lectures by internationally engaged artists and arts scholars.
"Being able to be part of a burgeoning district that will grow into something in the next decade is exciting. Being housed in an historic building makes a big difference in our work and community-making."
Contact Information:
Adriene Jenik, Director
480-965-1696
adriene.jenik@asu.edu
art.asu.edu
605 E. Grant Street Phoenix, 85004
5. Bentley Gallery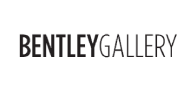 For more than thirty years Bentley Gallery has been synonymous with contemporary painting and sculpture in the Southwestern United States. The Phoenix art gallery represents mid-career and museum-collected artists from the U.S. and Europe as well as emerging artists. Throughout the history of the gallery, a diverse range of mediums have been represented, including painting, sculpture, photography, drawing, textiles, installation art, and video.
Bentley Gallery also has a long tradition of offering ancient art and artifacts. Chinese bi and cong from the Neolithic period provide a rare glimpse into China's history. This Phoenix art gallery demonstrates that the power of these beautiful antiquities to co-exist seamlessly with contemporary paintings and sculptures is both stimulating and compelling. All works are authenticated and certified by academic experts.
Paramount to every exhibition at Bentley is the selection of works that are beautiful, that are exquisitely crafted, and that force us to change how we experience the spaces we share with the art.
"Twelve years ago when Bentley Gallery moved here no one knew there was a Warehouse District. Now there are new businesses moving in regularly, the old buildings are being renovated, and people are enjoying the advantages of being in downtown Phoenix. These buildings are part of Phoenix's tangible past and also provide opportunities for our community's future. They're beneficial for our culture and our economy."
Contact Information:
Bentley Calverley
480-946-6060
info@bentleygallery.com
bentleygallery.com
215 East Grant Street Phoenix, AZ 85004
6. CCBG Architects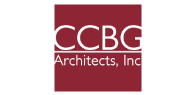 For the past 24 years, since CCBG Architects moved their studio into the Roosevelt District., they have helped lead the way in the area of downtown redevelopment in the City of Phoenix. Now, CCBG resides in the heart of the Warehouse District where they designed, own, and manage their creative Phoenix Mixed Use Studio on a small urban corner parcel.
"In 2005, the Warehouse District (WD)  represented the future of downtown Phoenix.  Today, the WD is experiencing an unbelievably exciting renaissance that is being lead by the creative business community, who are sharing their visions to create an exciting, dynamic and unique character district in which to live, work and play."
The firm is the a leader in adaptive reuse projects and has converted more than 25 warehouse building into creative work environments for groups such as R & R Partners, ASU Step Gallery, Moses, and IASIS Medical business in the historic Suns Mercantile Building. Current infill housing and mixed use projects include the Union @ Roosevelt, Iluminate, Linear, Stewart Apartments and Alta Midtown. CCBG is considered a premier design and entitlements consultants for downtown Phoenix.
"There is no other area of metro Phoenix that offers the unique character, and infill  and adaptive reuse opportunities that the Warehouse District has, all just blocks from the epicenter of downtown Phoenix."
The firm is actively involved with the American Institute of Architects (AIA), the Phoenix Community Alliance, the Downtown Phoenix Community Development Corporation, the Central Arizona Architectural Foundation, and has members holding key positions on multiple City of Phoenix boards including the Planning & Zoning Commission.
Contact Information:
Brian Cassidy, AIA
602-258-2211
info@ccbg-arch.com
ccbg-arch.com
102 E. Buchanan Street Phoenix, AZ  85004
7. Courtyard Phoenix Downtown Marriott
8. Cowley Companies

Investors like Cowley Companies, along with trend-setting art galleries, master crafters and technology companies championed early re-development efforts in the Warehouse District and Jackson Street.  Cowley's diversified land investment firm helped lead the movement to save, preserve and enhance the beautiful warehouse buildings of Phoenix's early days, which were once slated for demolition.  Cowley has earned a reputation for creating some of the District's most extraordinary spaces. Beneath the high, exposed ceilings and within the red-brick walls, modern amenities and innovative design create inspiring work spaces.
Contact Information:
Rob Schmitz
602-385-4200
rob@cowleyco.com
1242 E. Jackson St. Phoenix, AZ 85034
9. Downtown Phoenix Inc.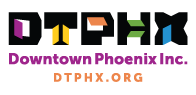 Created in 2013 as a community development group, Downtown Phoenix Inc. promotes the continued revitalization of downtown Phoenix. DPI and its affiliate organizations are committed to making Phoenix a vibrant urban destination and one of the nation's great cities.
"The growth and emergence of new businesses and development in the area as well as the increased collaboration between stakeholders, both in the Warehouse District and in the greater downtown area."
Contact Information:
602-495-1500
info@dtphx.com
dtphx.org
Cityscape | 1 E. Washington St. #230 Phoenix, AZ Phoenix, Arizona 85004
12. George Washington Carver Museum + Cultural Center
George Washington Carver Museum and Cultural Center housed in the historic former Phoenix Union Colored High School building built in 1926 serves as a cultural institution that is the steward of the African American experience in Phoenix.  It serves as a local station for discussion forums, educational services, a myriad of community events with  multipurpose interpretative spaces honoring  African American Heritage, Arts & Culture.
"The elders of the African American community saw the worth of preserving the historic heritage of warehouse area are excited to see it reemerge and take shape as a vibrant warehouse community. "
Contact Information:
602-254-7516
info@gwcmcc.org
415 E Grant Street Phoenix, AZ 85004
13. Gould Evans + Canary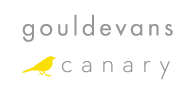 Gould Evans is a multi-faceted design firm committed to projects that inspire and enrich the communities in which we live, work and play. Founded in 1974, Gould Evans has offices in Phoenix, San Francisco, Kansas City, Lawrence and New Orleans, and includes Canary, a boutique studio specializing in total brand experience design.
"Our move to the Warehouse District was initiated by the our desire to be more involved with the growth of downtown Phoenix. Moving to the Warehouse District was the best thing we could have done. When we first moved here, we were intrigued by the surroundings, the history and imperfections as character. We see endless possibilities to connect people with our context. We embrace the complexities of our evolving city and our wheels are turning about the next appropriate iteration of our neighborhood. "
Gould Evans + Canary brings to you a one-stop collective that can serve all scales of design need, from master planning to interiors, architecture to branding. With backgrounds ranging from architecture, advertising, urban design, graphics, to structural engineering and more, our designers thrive on learning from different perspectives and bringing our collaborative energy to the table. Our portfolio is intentionally diverse. We've had the opportunity to work on an impressive variety of projects in project type, scale and location. This diversity in people and projects is a strength that encourages innovative, critical thinking and discourages a formulaic approach.
Contact Information:
Amanda Harper
amanda.harper@gouldevans.com
canary-studio.com


Krista Shepherd
krista.shepherd@gouldevans.com
gouldevans.com
14. The Larry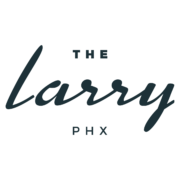 Restaurant & Catering Concept in the Warehouse District of Downtown Phoenix.
Let's meet. Let's eat. Let's grab coffee.
Hey, it's Larry — the all-day-vibes food and drink hangout from the team at Conceptually Social, anchored in the Phoenix Warehouse District. Here, you'll mingle with DTPHX buddies, sip a freshly made cocktail, caffeinate on specialty coffees and simply want to stick around a little longer. We're open for breakfast, lunch and happy hour with a lineup of menu items that checks all the boxes for your healthy, comforting and eclectic cravings. In a rush? We got you covered with ready-to-eat meals that let you grab and go! Expect familiar, but never boring bites. Let's be friends.
Contact Information:
602-432-0752
thelarryphx.com
515 E. Grant St., Phoenix, AZ 85004
16. Kiterocket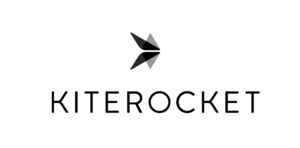 Kiterocket CEO, Martijn Pierik, wanted to find a space that was open and fostered an environment of creativity. He firmly believes that the architecture here inspires the community with their history.
Kiterocket is a global PR and creative marketing agency with experience across a diverse set of industries. The agency excels at creating multi-channel communication strategies that help brands find their voice, enhance their reputations and elevate themselves above the competition to reach their destinations.
"The influx of technology companies, creative agencies, architectural firms, event spaces and art galleries bodes extremely well for the future of #PHXWD."—MP
Contact Information:
Andy Lucich
602-502-1397
alucich@kiterocket.com
kiterocket.com
515 5 Grant Phoenix 85004
17. ON Jackson
Unlike anything in the whole of Phoenix, Events On Jackson is a 23,180 square foot multi-use social and corporate event venue that combines high tech functionality with the charm and beauty of a historic building. Our mission and promise is to help you create a memorable and customized experience for your next meeting, corporate retreat, or social event.
Contact Information:
onjackson.com
245 E Jackson St, Phoenix, AZ 85004
18. Phoenix Community Alliance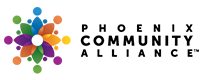 The Phoenix Community Alliance (PCA) is the premier business leadership organization that has worked to create a stronger downtown for a better Phoenix for more than thirty years. Our membership consists of companies of all sizes, retail establishments, private professionals, and other community-based organizations helping to shape the future of Phoenix.
Now that our affiliation with Downtown Phoenix Inc. is complete, PCA members have greater access to information and opportunities that directly and positively affect their business, bottom line, and impact in the community.
"The history and culture of the area have been preserved and restored while thriving creative agencies and tech start ups are attracted to the adaptive new uses of the warehouses. It's exciting to watch the rebirth of this neighborhood!"
Contact Information:
Devney Preuss, Executive Director
602-682-6612
dpreuss@dtphx.org
phoenixcommunityalliance.com
1 E. Washington Street Suite 230 Phoenix, AZ 85004
19. Phoenix Suns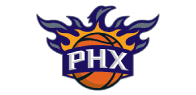 The Phoenix Suns organization includes the Phoenix Suns (NBA), the Phoenix Mercury (WNBA), the Northern Arizona Suns (NBA Development League), and the management of Talking Stick Resort Arena, which is the home court of the Phoenix Suns and the Phoenix Mercury as well as the home field of the Arizona Rattlers (AFL).  In addition to hosting the teams' regular- and post-season games, the arena stages dozens of concerts and shows each year, and serves as the venue for numerous civic and charitable activities, along with corporate meetings and conventions.  The arena is booked nearly every day and evening and brings an estimated one million people to downtown Phoenix each year.
"The Phoenix Suns have always had a passion for their namesake city and the promise of its mythical bird.  Within the organization there was an early recognition that a great downtown would rise again so long as there was good leadership and wise investment to the sites north AND south of the tracks.  And it  has now come to pass…."
Contact Information:
602-379-7900
nba.com/suns
Talking Stick Resort Arena  |  201 East Jefferson Street Phoenix, AZ 
20. R+R Partners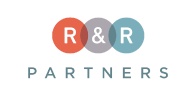 R&R Partners is a full-service, communications agency with offices in Phoenix and eight other cities. Using sophisticated advertising, digital marketing, brand development and public relations, R&R helps its clients thrive in complex, fast-moving business climates. R&R has a wide range of expertise and specializes in tourism and hospitality, energy, social cause marketing and commercial transportation. The agency has built innovative campaigns and business solutions for more than 40-years and is best known for creating the iconic "What Happens Here, Stays Here" campaign for Las Vegas.
"It's not often you get a chance to be part of the revitalization and resurgence of a community. That opportunity is what excites us most about the Warehouse District. We are creating something new within structures that are old. As a group of business owners, we are helping to redefine Phoenix and its future. We can't wait to see the area grow thoughtfully. Something meaningful is happening here that could last for generations."
Contact Information:
480-317-6040
matt.silverman@rrpartners.com
rrpartners.com
121 E Buchanan St. Phoenix, AZ 85004
21. Stadium Lofts
Stadium Lofts is a unique 31-unit urban condo development in the industrial part of downtown Phoenix. Stadium Lofts was completed in 2004. An all brick construction, this community is a reminder of original loft-style residences that were once in converted warehouses. Stadium Lofts highly urban location allows the residents access to all of what downtown Phoenix has to offer. City Scape, US Airways Center, and Chase Field are just some of the few establishments within close proximity to the Stadium Lofts community.
The Stadium Lofts offers studios, 1 and 2-bedroom layouts ranging in size from 1,114 to 2,021 square feet. Every unit within the community is fixed with spacious contemporary-kitchens along with full appliance packages, exposed ductwork, red brick walls and ten to twenty-foot ceilings depending on the unit.
"Most residents like the exciting feel of downtown, access to good restaurants, and the startup feel of the Warehouse District."
Contact Information:
Mike Pennell—HOA Director
mpennell@cox.net
 424 S. 2nd Street Phoenix, AZ 85004

22. The Summit at Copper Square
The Summit Downtown where convenience meets modern luxury. These units feature standard finishes including hardwood floors, granite countertops with stainless steel appliances, exposed ventilation to give you that soft loft feeling, view balconies/patios, and floor to ceiling glass with great city/mountain views. This building has a 24/7 doorperson, underground secure garage parking, workout room featuring free weights and cardio with flat screens, locker rooms with dry saunas, infinity pool on the 5th floor overlooking Chase Field, penthouse lounge on the top floor with huge outdoor patio, large flat screen, firepit to enjoy some nice AZ nights under the stars and free wi-fi in all common areas. MANY UNITS TO CHOOSE FROM, FLOORPLANS AND PRICING VARIES..
Contact Information:
480-283-5525
thesummitdowntown.com
310 S 4th St, Phoenix, AZ 85004
23. Warehouse 215
Warehouse215 — located in the heart of Phoenix's urban-chic Warehouse District — is 10,000 square feet of flexible interior space and a 1,500 square foot, beautifully landscaped patio. Warehouse215 is the Phoenix event venue for unforgettable galas, weddings, corporate events, presentations, large receptions with live music, sit-down dinners, intimate cocktail parties, rehearsal dinners, tradeshows, fundraisers, business meetings, quinceañera, photo or film shoots, and more. Two large rooms host the main event while other adjoining spaces transform into areas for cocktails, registration, and other activities.
A 1918 converted linen laundry building with industrial details and modern amenities; Warehouse215 at Bentley Projects finds its home in one of Phoenix's hottest up-and-coming neighborhoods, just a few blocks from Chase Field and the Phoenix Convention Center. This unique, full-service event venue is filled with original brick walls, wood-beam bow truss ceiling and clerestory windows, converted into modern, multi-functional spaces, and enhanced with crystal chandeliers and sparkling bistro lights.
"The unique features of the historic building, the proximity to all the major highways, the convenience of being located in downtown Phoenix."
Contact Information:
Riette Bartlett
602-340-9200
celebrate@warehouse215.com
warehouse215.com
215 East Grant Street, Phoenix, AZ
24. Web PT
With 30% market share, WebPT is the leading rehab therapy platform for enhancing patient care and fueling business growth. Offering scheduling, documentation, billing, outcomes tracking, business reporting, and system integrations, WebPT's robust solution is ideal for every outpatient therapy setting—regardless of staff size, facility type, or number of specialties. Headquartered in the historic Warehouse District in downtown Phoenix, WebPT has a 99.99% uptime rate and a 99.6% customer retention rate. It was named to the Inc. 5000 list of the nation's fastest-growing companies four years in a row, including two years on the elite Inc. 500 list, and it's made several best places to work lists, including Arizona's Most Admired Companies and the Phoenix Business Journal's Valley's Healthiest Employers.
"Its future! We want the Warehouse District to be the innovation hub of Phoenix. We want a bevy of startups and technology companies here. Through density, we'll create community. Ideas and collaboration will flourish, spawning greater employment growth, ingenuity, and economic development. "
Contact Information:
Charlotte Bohnett
866-221-1870 ext. 346
webpt.com
625 S. 5th Street Phoenix, AZ 85004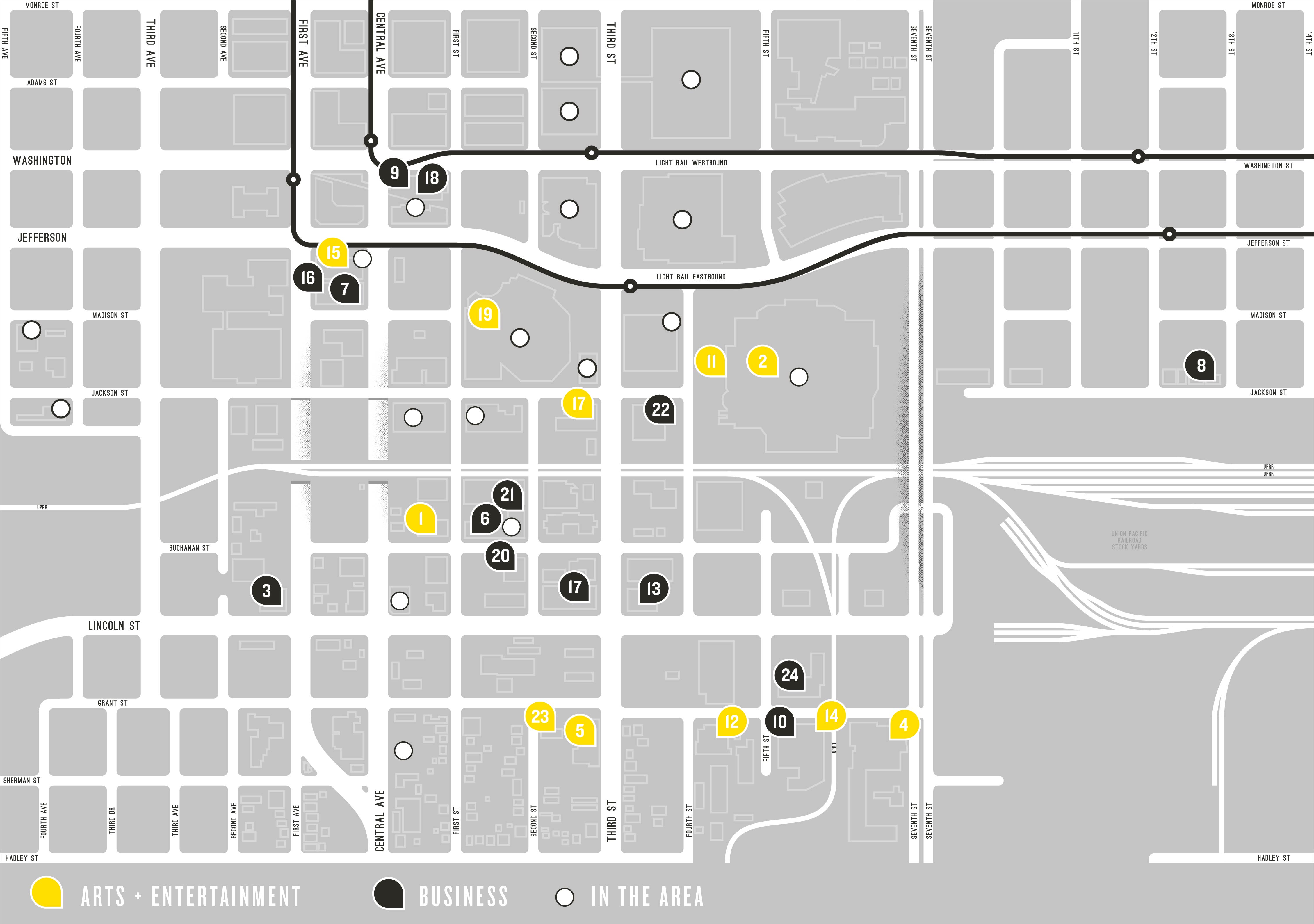 11
GEORGE WASHINGTON CARVER MUSEUM + CULTURAL CENTER
15
PHOENIX COMMUNITY ALLIANCE
24
THE PHOENIX CONVENTION CENTER
25
THE PHOENIX CONVENTION CENTER
26
THE SUMMIT AT COPPER SQUARE
31
TALKING STICK RESORT ARENA
32
BITTER + TWISTED COCKTAIL PARLOUR
33
COURTYARD DOWNTOWN PHOENIX MARRIOTT
40
THE PHOENIX CONVENTION CENTER
FRIENDS OF THE WAREHOUSE DISTRICT
Harder Development
Habitat for Humanity Central AZ
Fasturtle Digital
Scientific Technologies Corporation
Last Exit Live
Urban Axes